Other people also viewed:
Antsle one XD Ultra – 12 Cores (24 Threads)
$4,499.00
The Powerhouse: preconfigured with edgeLinux & antMan to manage your virtual private servers. SSD-based, 10 GbE LAN, M.2 NVMe SSD for ultra-fast caching available. 100% silent & dust-proof.
edgeLinux & antMan with Free Home Lab Plan

Intel Xeon-D 12 Core (24 threads) @ 1.5 – 2.1 GHz, 45W

up to 128 GB DDR4 Registered ECC RAM 

up to 16 TB Internal Storage (raw capacity)

Build time: 4-10 business days (every Antsle is built-to-order!)
Description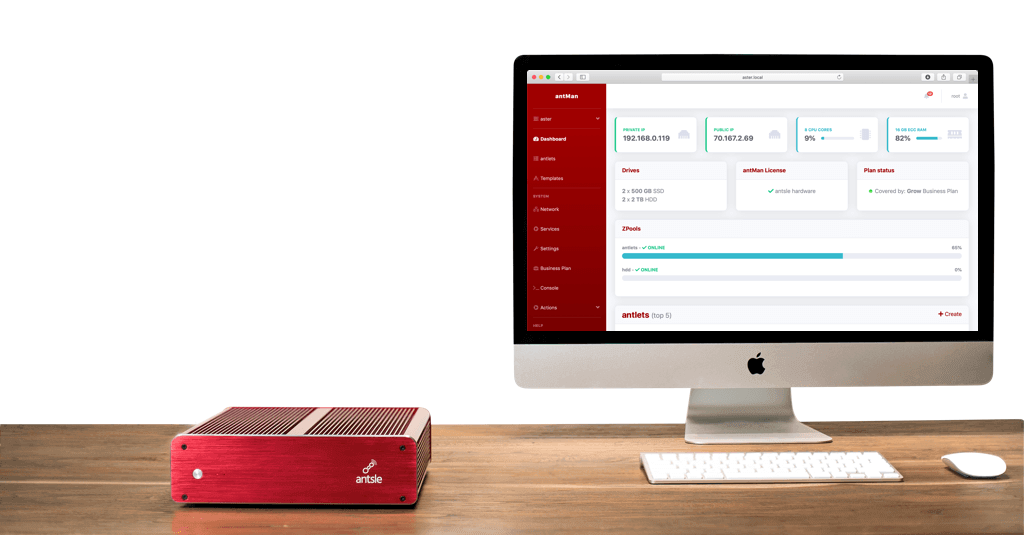 The Antsle one XD
Ultra
The Antsle Private Cloud Server is a unique turnkey solution to let you host from your home or office. It consists of three components:
The Antsle server: Powerful hardware in a compact case that also acts as the heat sink. No fans, no vent holes, no movable parts.
edgeLinux: Based on Gentoo Linux, enabling you to run all the Virtual Servers (antlets) you need on one box. The Antsle difference: You can implement your antlets either as VMs or Containers!
antMan: A simple dashboard to easily create/manage/deploy your antlets. Get set up in less than 5 minutes & Deploy any VM or Container in less than 10 seconds
Every Antsle is built-to-order, average build time for the Antsle one XD is 5-10 business days (although we usually beat that!).
What's the Antsle one
XD difference?
We followed the same design principles for the Antsle one XD as we did for the Antsle one. The difference: The Antsle one XD offers even more power with its Xeon-D CPU, the M.2 SSDs etc.
You'll find high-end parts only that are necessary to virtualize on your own box. All components were hand-selected for performance & usability:
The Case: Noisy fans and large servers that take up space are a no-go. The Antsle case features no fans, no vent holes and very low power consumption! Our innovative cooling technology means we are using the case as the heat sink.

The XD difference:

The new CPU is a beast of a performer! All this power in such a little box, it's bound to heat things up. The case gets hotter than the Antsle one!
The CPU: The

Intel Xeon-D

is among the most powerful CPUs that can be used in a self-hosted environment today! Hyperthreading means you'll get significantly more performance out of the cores you choose.
The Storage: Just like the Antsle one, everything is 100% mirrored so that performance is top-notch and your data stays safe.

The XD difference:

We added

M.2 SSDs

that are much faster than the normal SATA-based SSDs. We preconfigure the M.2 SSD to house the ZFS L2ARC and ZIL (level 2 adjustable replacement cache and ZFS intent log). Everything on an Antsle goes through the ZFS storage backend, so you'll gain significant speed and save valuable RAM that can otherwise be used for the payload. We use the ZFS file-system and RAID-Z, which guarantee the highest amount of safety, fault-tolerance and integrity.
The RAM: Servers are designed to run for a long time. Bit errors do occur and when written to disk cause an inconsistent state on your disk. We exclusively use ECC (error-correcting code) RAM in our Antsles to avoid all that.

The XD difference:

 We're using

registered

ECC memory in our XD models. It's much more expensive but the way to go in virtualized environments.
Specs
Weight
12 lbs
Dimensions
14 × 14 × 10 in
Weight (server only)

~ 8 lbs

Dimensions (server only)

10.75 x 9.625 x 2.875 in

CPU

Intel Xeon-D 12 Core (24 threads) @ 1.5 – 2.1 GHz, 45W

Case

antsleCase: 100% silent, fanless, dustproof aluminum case

Ports

2 x 10Mb/100Mb/1Gb Ethernet, 2 x 1Gb/10Gb Ethernet, IPMI LAN, 2 x USB 3.0

OS

edgeLinux: Rock solid OS for virtual server management.
antMan: Browser-based and easy-to-use cloud manager. Runs on all edgeLinux servers.

Power Supply Unit

External 12V, 9.5 Amp, 5.5mmx2.5mm jack, 114W, US plug (others on request), 100V – 240V

Power Consumption

85W peak. Normal consumption ~ 30W

Fault Tolerance

All user data transparently stored on two mirrored SSDs via ZFS. ZFS and mirroring is handled in edgeLinux and is transparent to user antlets. ZFS is the most fault-tolerant file system on the market. Used in combination with ECC RAM (error-correcting code).

RAM

64 GB ECC DDR4 RAM

Storage

2 x 1 TB SSD, raw capacity 2 TB SSD

Upgrades

RAM Upgrade: 128 GB ECC RAM
Storage Upgrade 1: 2 x 2 TB SSD, raw capacity 4 TB (instead of 2 x 1 TB)
Storage Upgrade 1: 2 x 4 TB SSD Samsung 850 EVO, raw capacity 8 TB (instead of 2 x 1 TB)

Warranty

30-day money-back guarantee + 1-year limited warranty. Extended warranty available (see pricing)