Other people also viewed:
Antsle one Ultra – 8 Cores
$2,199.00
The Original: edgeLinux / antMan for easy VPS-Management preinstalled. SSD-based, 100% silent & dust-proof.
edgeLinux & antMan™

Intel CPU @ 2.40 GHz, 8 Cores (Avoton C2750)

32 GB ECC RAM (64GB currently unavailable)

up to 16 TB Internal Storage (raw capacity)

Build time: 4-10 business days (every Antsle is built-to-order!)
Out of stock
Description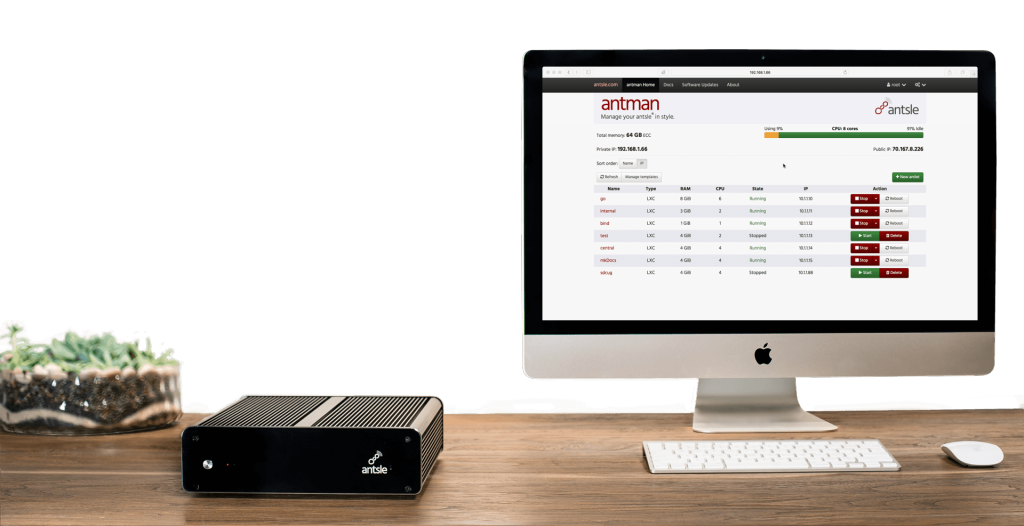 The Antsle one Ultra
The Antsle Private Cloud Server is a unique turnkey solution to let you host from your home or office. It consists of three components:
The Antsle server: Powerful hardware in a compact case that also acts as the heat sink. No fans, no vent holes, no movable parts.
edgeLinux: Based on Gentoo Linux, enabling you to run all the Virtual Servers (antlets) you need on one box. The Antsle difference: You can implement your antlets either as VMs or Containers!
antMan: A simple dashboard to easily create/manage/deploy your antlets. Get set up in less than 5 minutes & Deploy any VM or Container in less than 10 seconds
Every Antsle is built-to-order, average build time for the Antsle one is 4-10 business days (although we usually beat that!).
What's inside? 
We focus on using high-end parts that are necessary to virtualize on your own box. All components were hand-selected for performance & usability:
The Case: Noisy fans and large servers that take up space are a no-go. The Antsle case features no fans, no vent holes and very low power consumption! Our innovative cooling technology means we are using the case as the heat sink. And even under 100% load of all CPU cores, the Antsle one gets hardly warmer than just body temperature.
The CPU: The Avoton are unlike the original Atoms and the only thing they share are the name. Avoton series offers the ideal tradeoff between performance and usability in a passively cooled environment.
The Storage: We exclusively use high-quality SSDs and mirror everything 100% so that performance is top-notch and your data stays safe. We also use the ZFS file-system and RAID-Z, which guarantee the highest amount of safety, fault-tolerance and integrity.
The RAM: Servers are designed to run for a long time. Bit errors do occur and when written to disk cause an inconsistent state on your disk. We exclusively use ECC (error-correcting code) RAM in our Antsles to avoid all that.
Specs
Weight
12 lbs
Dimensions
14 × 14 × 10 in
Weight (server only)

~ 8 lbs

Dimensions (server only)

10.75 x 9.625 x 2.875 in

CPU

Intel 8 core @ 2.40 GHz
VT-x with EPT for full virtualization, max. 20W TDP

Case

antsleCase: 100% silent, fanless, dustproof aluminum case

Ports

4 * Gigabit Ethernet, 2 * USB 3.0, 2 * USB 2.0

OS

edgeLinux: Linux apps in LXC containers at bare metal performance. Native Linux, Windows, BSD and other OSes via KVM virtualization. Antlet management through antmanTM.

Power Supply Unit

External 12V, 5.5mmx2.5mm jack, 60W, US plug (others on request), 100V – 240V

Power Consumption

45W peak

Fault Tolerance

All user data transparently stored on two mirrored SSDs via ZFS. ZFS and mirroring is handled in edgeLinux and is transparent to user antlets. ZFS is the most fault-tolerant file system on the market. Used in combination with ECC RAM (error-correcting code).

RAM

32 GB ECC DDR3 1600MHz (4 * 8 GB)

Storage

2 * 500 GB SSD, raw capacity 1 TB SSD (Samsung Evo 850)

Upgrades

RAM Upgrade 1: 32 GB ECC RAM (2 * 16 GB, instead of 2 * 8 GB)
RAM Upgrade 2: 64 GB ECC RAM (4 * 16 GB, instead of 2 * 8 GB)
Storage Upgrade 1: 2 * 1 TB SSD, raw capacity 2 TB (instead of 2 * 500 GB)
Storage Upgrade 2: 2 * 2 TB SSD, raw capacity 4 TB (instead of 2 * 500 GB)
Storage Addition: 2 * 2 TB HDD, raw capacity 4 TB (in addition to the SSDs, adds minimal noise)