Other people also viewed:
Antsle one D+ – 8 Cores
$2,249.00
The Memory Monster: edgeLinux / antMan for easy VPS-Management preinstalled. SSD-based, 100% silent & dust-proof.
edgeLinux & antMan™ (for easy VPS Management)

Intel Denverton C3758 8 Core, 2.2 GHz.

64 GB DDR4 Registered ECC RAM

500GB M.2 SSD NVMe

2.5TB Internal Storage (raw capacity)

Build time: 4-10 business days (every antsle is built-to-order!)

Want a custom configuration? Contact us directly.
Description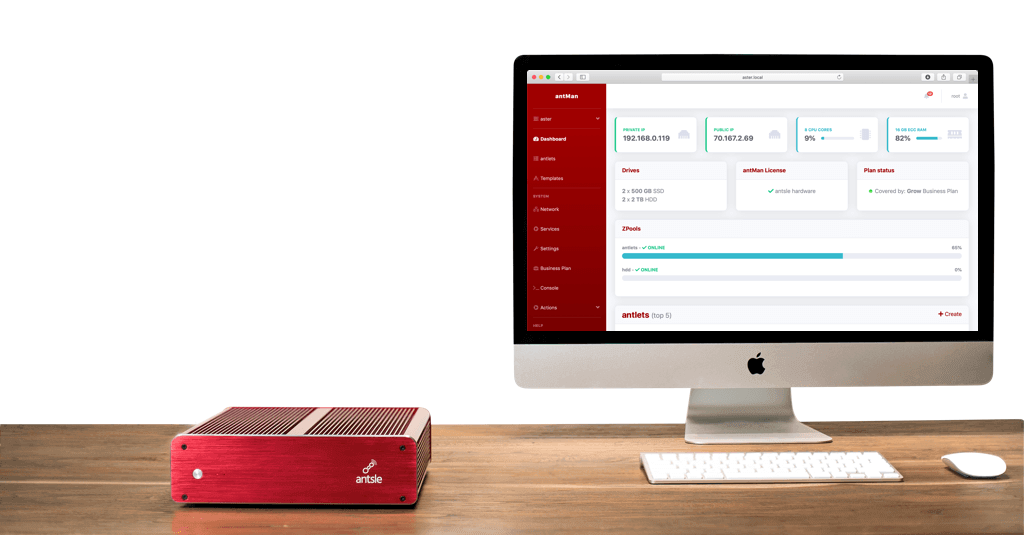 The Antsle one D+ – The Memory Monster
The Antsle Private Cloud Server is a unique turnkey solution to let you host from your home or office. It consists of three components:
The Antsle server: Powerful hardware in a compact case that also acts as the heat sink. No fans, no vent holes, no movable parts.
edgeLinux: Based on Gentoo Linux, enabling you to run all the Virtual Servers (antlets) you need on one box. The Antsle difference: You can implement your antlets either as VMs or Containers!
antMan: A simple dashboard to easily create/manage/deploy your antlets. Get set up in less than 5 minutes & Deploy any VM or Container in less than 10 seconds
Every Antsle is built-to-order, average build time for the Antsle one D is 4-10 business days (although we usually beat that!).
Specs
Weight
12 lbs
Dimensions
14 × 14 × 10 in
Weight (server only)

~ 8 lbs

Dimensions (server only)

10.75 x 9.625 x 2.875 in

CPU

Intel Denverton 8 cores. Intel C3758, 2.2 GHz

Case

antsleCase: 100% silent, fanless, dustproof aluminum case

Ports

4 LAN ports, 1Gbps each, 2 USB 2.0 ports, 1 USB 3.0 port

OS

edgeLinux: Rock solid OS for virtual server management.
antMan: Browser-based and easy-to-use cloud manager. Runs on all edgeLinux servers.

Power Supply Unit

External 12V, 5 Amp, 5.5mmx2.5mm jack, 60W, US plug (others on request), 100V – 240V

Power Consumption

50W peak. Normal consumption ~ 20W

Fault Tolerance

All user data transparently stored on two mirrored SSDs via ZFS. ZFS and mirroring is handled in edgeLinux and is transparent to user antlets. ZFS is the most fault-tolerant file system on the market. Used in combination with ECC RAM (error-correcting code).

RAM

64 GB ECC DDR4 RAM @ 2,400 MHz

Storage

2 x 1 TB SSD, raw capacity 2 TB SSD. SATA3 @ 6Gbps

Warranty

30-day money-back guarantee + 1-year limited warranty. Extended warranty available (see pricing)